10 Fun Indoor Activities to Try This Winter
Cooped up inside? Make the most of your time indoors with some fun and educational indoor activities. We rounded up 10 of our favorites, including fun ways to help kids expend some energy on cold or rainy days, as well as quieter activities, crafts, and games.
1. Build an Indoor Obstacle Course
Kids bouncing off the walls? Channel that energy into an obstacle course! It's a fun way for kids to get some exercise, practice following directions, and build large and small motor skills. Try these ideas from Education.com, Kids Activities Blog, and Family Education.
2. Board Games and Puzzles
Who doesn't love a good board game? Find the best games for every age in our two previous posts, Best Educational Board Games for Kids, and 17 Board Games for a Family Game Night. Or break out the puzzles for a fun learning activity that kids can do alone, or with the whole family. Did you know that working on puzzles boosts math skills?
3. Play an Active Game
Active games are great indoor activities, whether as simple as Simon Says, or a store-bought game like Twister. You can even try these ideas to make Twister educational. Many of our favorite educational sight word games for summer can also easily be modified for indoor fun (just skip any that involve water, unless you're lucky enough to live in a warm climate!) In fact, many favorite playground games can easily be brought indoors by switching out sidewalk chalk for masking tape. Get more ideas here.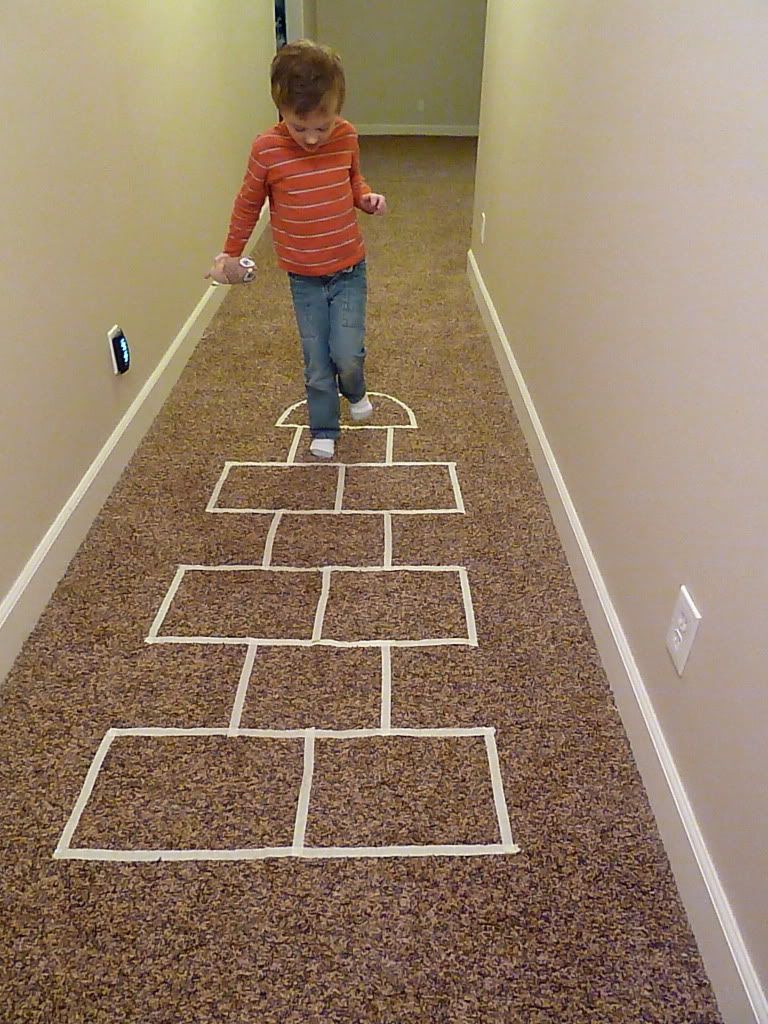 via What to Expect
4. LEGO!
LEGOs are always a fun way to pass the time inside and a great way for kids to learn through play. Try one or a few of our favorite LEGO learning ideas, including ideas for LEGO math and LEGO science.
5. Go on an Indoor Scavenger Hunt
An indoor scavenger hunt is a great rainy day activity to get kids up and moving. Try a sight word or math problem scavenger hunt, or one of these fun ideas for hunts around the house. Or get kids moving and clean the house with these brilliant chore scavenger hunts, like the clutter-busting idea below.
6. Science Experiments
Have fun exploring science with an easy at-home science experiment. Or put a wintery spin on science with these fun winter science ideas.
7. Build a Fort
Whether you choose to build yours from cardboard boxes, pillows, and blankets, or furniture and couch cushions, a fort is a classic rainy day activity and a great way to spark kids' imaginations. Visit Today's Parent for nine creative indoor fort ideas, from large to small, simple to elaborate. Then get building!
via Today's Parent
8. Have a Dance Party
What better way to get the wiggles out than with an impromptu dance party? Just put some music on and get moving! Crazy dance moves encouraged! A video game like Just Dance Kids is always a fun option too.
9. Sensory Boxes
One of the best ways for kids to learn is by exploring with all five senses. Sensory boxes are a fun way for kids to engage all their senses, have fun, and learn about their world. Find more than 200 themed sensory bin ideas at Kids Activities Blog.
10. Get Cooking
Whether you're baking a special treat or just making dinner together, cooking with kids is a fun way to spend time inside, and it's a great learning activity too!
What's your favorite way to pass the time on cold or rainy days? Tell us about your favorite indoor activities in the comments.
---
Featured Image Credit – Melissa Hillier / CC by 2.0
Ashley MacQuarrie began writing professionally more than ten years ago and has covered education, technology, current events, pop culture, and other topics. A former homeschooler, she studied English and Film & New Media, graduating with a bachelor's degree from San Diego State University. Ashley has classroom experience working with children who have autism and other special needs. She has also tutored students from kindergarten through college and taught English to teens and adults at a language school in London.
Sorry, we couldn't find any posts. Please try a different search.